I crossed north from Slovakia, through the Tatras mountains to the Zakopane region of Poland. There is sadly no train connection across the mountains, so this was the only time I had to break my rail journey, and travel by bus instead. I was not quite prepared for the cold weather, so spent time enjoying the hotel and warm spa baths they had next door. There was a tourist train up into the hills for better views of the mountains, rather than hike in the cold.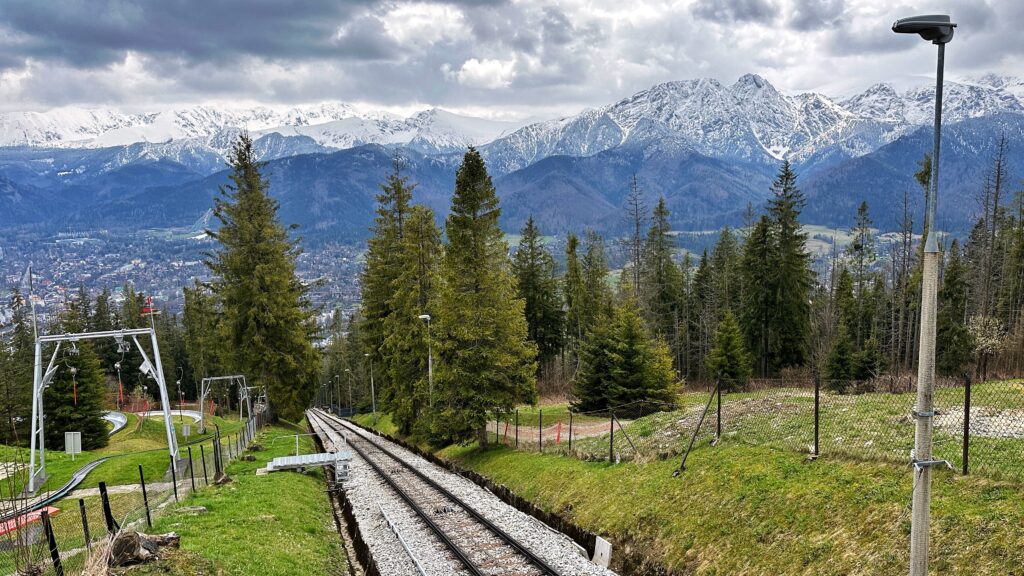 Perogis are traditional Polish food, often found on restaurant menus. There are various options for fillings inside the dumplings. The ones Below had lamb inside and had been lightly fried with olive oil and rosemary, they tasted excellent. On another day I tested some sweet Perogi, with peach filling inside, also excellent.
One reason to come up to Warsaw, was to see an old mate, Steve, we lived together a long time ago in Australia 2012. It s always great to see old friends and fellow travellers, especially when a number of years passes by before catching up again. So had a great weekend staying with my old pal & his wife, they were very kind hosts for my stay in Warsaw.
Whilst in Poland, we went the Legia Warsaw football match. Legia Warsaw beat Wisla Plock 2-0. It was a good match, nice big stadium, with a loud atmosphere especially in the home end shown below.
Time for some more traditional polish food, this time a goulash served with potato pancakes. Whilst goulash is famous in Hungary, this version came to Poland a few hundred years ago, and has their own take on it, with the potato pancakes, I think in Polish it is called Placki ziemniaczane po węgiersku, they go great together and ate very well.
Finally a shot of the old town of Warsaw, alot of the old centre was rebuilt after World War II. However they were very careful to faithfully recreate the old buildings and feel of Krakow. On a sunny day here its beautiful to sit and enjoy with a coffee in the square.